A Gilbert Family Tradition.
"You should start the day with chocolate, and end the day with chocolate." -- Linda Gilbert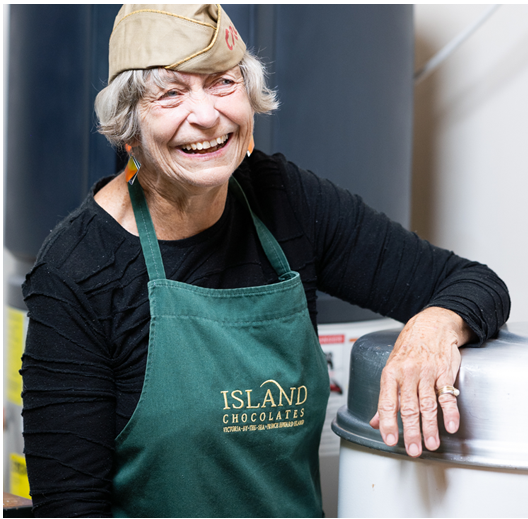 The story of Island Chocolates begins with Ron and Linda Gilbert and their shared love of chocolate.
Years before the couple would become chocolatiers, Ron wrote magazine articles. One of his assignments was to write about chocolatiers in Vancouver — a delicious assignment. Through his research, he met with Charlie Sigvardsen, owner of Charlie's Chocolate Factory, who graciously told Ron, "If you ever want to learn chocolate-making, give me a call."
In the early 1980s, the couple and their young family moved across the country to the seaside community of Victoria, Prince Edward Island. They opened Victoria's Tea Room and Crafts, a seasonal business specializing in chocolate desserts. Looking for a more sustainable income and to bring back to life Victoria-by-the-Sea's original general store, Ron and Linda took the next step and opened their own chocolate shop -- Island Chocolates.
Of course, they called Charlie and took him up on his offer to learn the fine art of chocolate-making. He invited Ron and Linda to apprentice with him and taught them everything needed to get started. Charlie was incredibly generous -- with knowledge, recipes and encouragement. His kind offer to help them learn the business set the groundwork for what Island Chocolates is today: a warm, inviting gathering spot where locals and tourists can sit, sip, and savour the finer things in life, including great coffee, delectable desserts, and of course, fine handmade chocolate.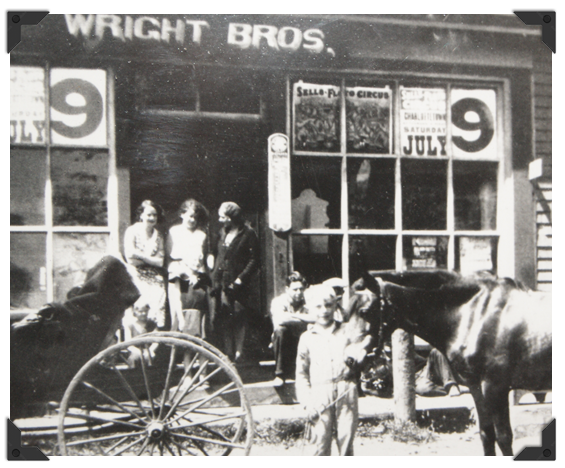 Our historic location
From the late 1800's through the late 1960's, the building that is now Island Chocolates was home to the Wright Brothers' General Store. At that time, Victoria distinguished itself as an important seaport and shipping centre for the Island.
Since the family took over the old general store in 1987, they have restored the building in stages. Renovations into the main building took place in 1991, with historically accurate windows and reinstalling the original general store doors. In fact, keys to the original doors were donated by the granddaughter of the general store's last shopkeeper.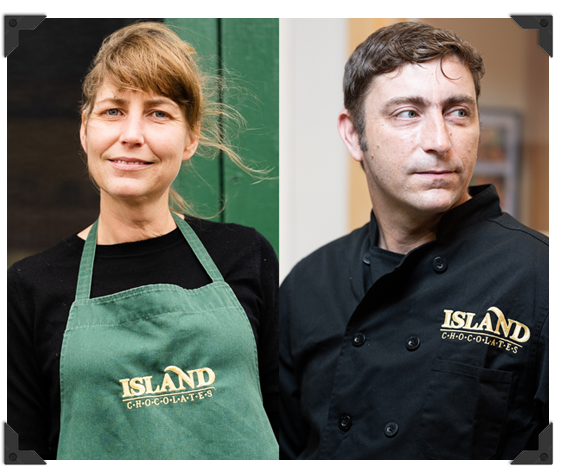 Our continued love for all things chocolate!
From the beginning, Island Chocolates has been a family-run business. What started with Ron and Linda continues to thrive with two of their children, Eric and Emma, who have active roles in sourcing and making chocolate as well as day-to-day operations and maintenance of the family's heritage property.
Both have added to their depth of knowledge and skill, attending the Callebaut chocolate course and traveling to chocolate-growing countries to learn directly from cacao farmers. As experienced chocolatiers, Eric has focused his artistry on moulded chocolate while Emma has honed her skills in the creation of dipped chocolates.
We love being a place for people to gather, connect, and take a moment to enjoy the finer things in life...like chocolate!